Medicare Part A Explained
In general, Original Medicare covers services designed to diagnose or treat any medical disease and condition. Medicare Part A hospital insurance is one half of Original Medicare.
Medicare Part A covers Medicare beneficiaries while an inpatient in a hospital or other medical facility, in hospice care, or when discharged to a skilled nursing facility (SNF) after spending at least three days in inpatient care.
Key takeaways:
Medicare Part A is that part of Original Medicare that covers hospital inpatient care, skilled nursing facility and hospice.

While an inpatient in a hospital, Medicare Part A covers your semi-private room, medications, nursing care, durable equipment and most physician services.

With the addition of a supplemental medical insurance, your inpatient hospital costs can be covered at 100%. You can be under inpatient care for a year with no out of pocket costs.

Medicare Advantage Plans replace your Original Medicare with a privatized version that will have different costs, coverage, coinsurance or copays than Medicare Part A.

What is Original Medicare
Original Medicare (aka Traditional or Standard Medicare) is a federal government health insurance program for U.S citizens or permanent residents who are 65-years of age and older, as well as those under 65 disabled and receiving Social Security disability benefits. They must have received those income benefits for at least 24 consecutive month.
Original Medicare is the insurance represented by the iconic red, white and blue card. It includes Medicare Parts A and B.
Original or Traditional Medicare insurance consists of Medicare Part A (Hospital insurance), Medicare Part B (outpatient and physician services) and can also include Medicare Part D (prescription drug coverage). Part B is also referred to as your "medical insurance".
Medicare Terminology
When discussing Medicare, the term Medicare Parts refers to parts of the Medicare program. Medicare Parts A and B and D are all "parts" of Medicare.
The term "Medicare Plan" refers to private insurance that either supplements or replaces Medicare.
The one exception is Medicare Part C. Part C is better know as an Advantage "Plan". They were originally called Medicare Replacement Plans. The name was changed to Part C after much insurance company lobbying, with the intent of making the consumer believe the Advantage Plan was a "Part" of Medicare.
Medicare Advantage Plans and Medicare Part A
Medicare beneficiaries have a choice of either accepting Original Medicare or trading in their Medicare for a Medicare Advantage plan. Medicare Advantage plans are sometimes referred to as Part C. However, they are not technically a part of Medicare.
Medicare Advantage plans replace your Original Medicare with a privatized version, designed, managed and administered by a private insurers.
A Medicare Part C plan is not required to have all the same benefits as Original Medicare, but is required to have benefits from all the same categories as Traditional Medicare. Thus the Advantage plan is required to offer inpatient insurance.
With a Medicare Advantage plan the insurance company has the authority to determine what is or is not medically necessary. If any service or procedure is deemed not medically necessary, the insurance company will not cover it.
It is also important to understand that Medicare Part C benefits are not standardized. Each Medicare Advantage plan has a different network, different costs and different benefits. In addition, each of these plan characteristics can change every year.
In two separate reports, written fours years apart by the Office of the Inspector General for health and Human Services, it was found that Medicare Advantage insurance companies deny or delay medical treatment that would be deemed medically necessary with Original Medicare.
Medicare Part A Eligibility
To be eligible for Medicare, a person must be a U.S. citizen. If not a U.S. citizen, a
person must be a legal permanent resident of the United States who has lived in the U.S. for a minimum of five consecutive years.
Aging Into Medicare
Unless a person is permanently disabled, eligibility for Medicare occurs as a person approaches age 65, during your Medicare Initial Enrollment Period (IEP).
Medicare Initial Enrollment Period
You Medicare Initial enrollment Period is a seven month period around your 65th birthday month. It includes the three calendar months prior to your birthday month, your birthday month, and the three calendar months after your birthday month.
The one exception is if your birthday lands on the first day of the month. In this case, your entire Initial Enrollment Period moves forward by one month. Use this free calculator to find your Medicare Initial Enrollment Period.
Medicare Eligibility Based on Disability
A person who is under 65 years of age and has received Social Security disability benefits for 24-consective months will automatically be enrolled in Original Medicare starting their 25th month of disability.
The 24-month waiting period can be waived in cases of End Stage Renal Disease (ESRD) or Lou Gehrig's disease (ALS )
What Does Medicare Part A Cost?
For most people, Medicare's Part A is premium free. If you or your spouse has paid Medicare taxes through payroll deduction for at least 40-quarter of your lifetime, your Part A is fully paid for.
If you are divorced, but your were married for ten years or more, you will likely be eligible for Medicare based on your ex-spouse's qualifications.
Another way to ascertain premium free eligibility is that those who are eligible for Social Security benefits or Railroad Retirement Board benefits and are age 65 or older will be eligible for premium free Part A.
Who Must Pay a Premium for Medicare Part A?
If you or your spouse has not paid the Medicare payroll tax for at least 40-quarters, you may be eligible to purchase Part A with monthly premium payments.
Depending on how many quarters of Medicare payroll tax was paid, Medicare Part A can have a monthly premium as high as $506 in 2023.
Medicare Part A Retroactive Coverage
One of the most interesting and unique characteristic of Part A is that outside of the IEP it has a retroactive start date.
When you enroll in Medicare before your birthday month, your Part A will start on the first day you are eligible for Medicare coverage. When you enroll in Medicare after your birthday month, Medicare Part A will start either on the first-day of your birthday month or the first day of the month that is six-months prior to your enrollment date.
This important mostly for those with HSA plans because there is a tax penalty for contributing to an HSA plan once enrolled in Medicare.
Does Medicare Part A Have a Late Enrollment Penalty?
There is no late enrollment penalty for anyone who is eligible for premium free Medicare Part A. If you are eligible for premium free Part A, you have already paid for inpatient health insurance. It makes no difference to the government when you start your policy. You can enroll in Part A anytime during or after your IEP.
If you must pay a monthly premium for Medicare Part A, then you are limited to enrolling either during your IEP or during the General Enrollment Period (January 01 through March 31) or a Special enrollment if you qualify. In addition, you must also enroll in or already have Medicare Part B.
For those who are not eligible for premium free Part A; if you had creditable employer coverage after age 65, you can delay enrolling in Medicare Part A to no later than eight-months after losing your creditable coverage or after you stop actively working.
The late enrollment penalty for Medicare Part A is 10% of your monthly premium, charged each month for twice the number of years that you were late enrolling.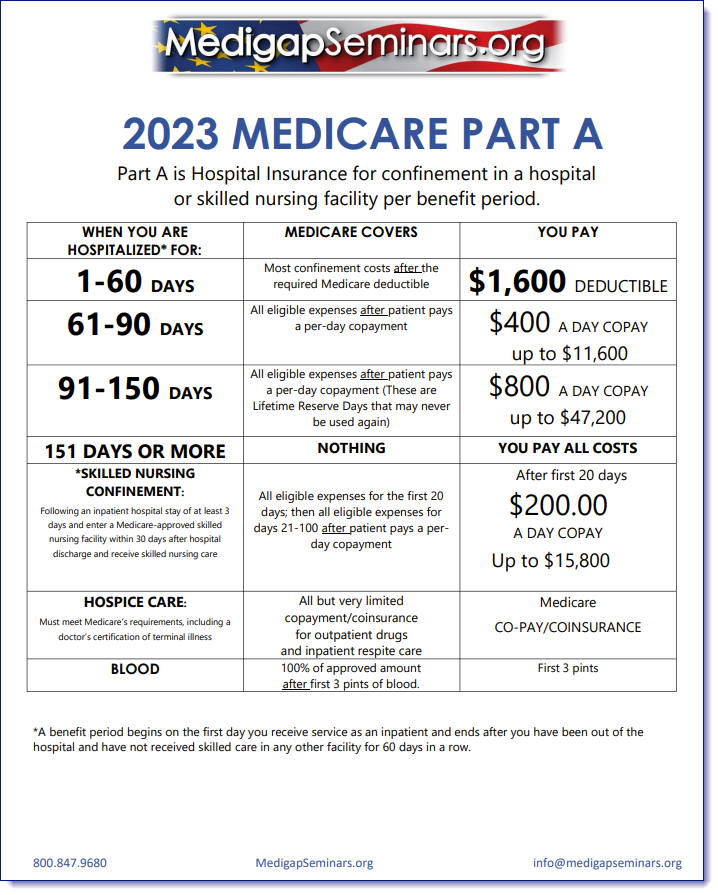 What Does Medicare Part A Cover?
As we examine what Part A covers, please keep in mind that we are referring to Traditional Medicare without supplemental insurance. With most supplement insurance policies your out of pocket costs will be at or very near zero.
Part A coverage has three main categories. They include inpatient care, skilled nursing facility and hospice care.
The first is inpatient hospital care. Medicare covers room, meals, skilled nursing care, occupational therapy services, durable medical equipment, medications (including prescription drug coverage) and doctor visits when they are an employee of the hospital. In short, Medicare coverage under Part A includes everything billed to you as an inpatient.
In some cases Medicare Part A may even cover home health services as you recover at home from surgery. Still, Medicare Part B is usually the primary source for coverage of home health care costs.
Also, doctor visits by an outside doctor (your primary care or surgeon follow ups) are usually covered by Medicare Part B.
In the benefits illustrated above, you can see there is a deductible, then a daily copay starting on day 61 and increasing on day 91. Your Part A coverage ends on the 151st consecutive day in the hospital.
If you purchase either a Medicare supplement or an Advantage plan, these numbers are irrelevant.
Medicare Part A Deductible and Benefit Period.
The Part A deductible is unique in that it is the only Medicare deductible that is not a calendar year deductible. The Part A deductible is a "per benefit period" deductible. A benefit period begins the first day you are considered an inpatient, and ends when you have been out of the hospital and not received skilled nursing care for 60-consecutive days.
Thus, without a supplement you can be subject to the Part A deductible multiple
times per year. The deductible is charged as soon as you are admitted to the hospital.
Mental Health Inpatient Care
A subset of inpatient care is care in inpatient psychiatric facilities. When an inpatient in a mental health facility you will pay 20% of the Medicare approved amount for the mental health services your receive from providers during your stay.
In addition, Part A has a lifetime cap of 190-days for inpatient psychiatric hospital stays.
Part A Skilled Nursing Facility Care
Part A Skilled Nursing Facility Care requires that you first spend three nights as an inpatient in a hospital before being discharged to a SNF.
Skilled care is covered fully by Medicare for 20-days. From days 21 through 100 you will have a daily copay.
Most Medicare supplement plans will pay 100% of SNF care up to 100-days.
Many Medicare Advantage plans require the SNF be in-network before approving coverage. A Medicare Advantage plan will require the physician to get pre-approval prior to discharging you to a SNF. Check your specific plan for what it may pay and for how long.
Part A Hospice Care
Part A covers hospice care for the terminally ill at 100%. We cover the details of hospice care in this blog post on Medicare Hospice Care.
Hospice also includes Respite care, speech language pathology services, physical therapy, occupational therapy services,
Prescription drugs during hospice may have a $5 co-payment per prescription.
Part A Dental Coverage
Most Medicare beneficiaries are not aware that there are some limited circumstances under which Medicare can cover dental services. It has to do with the dental exclusion act (Section 1862 (a)(12), as amended in 1980.
In brief, Medicare will pay for dental services that are integral to the hospital stay. This can include part of jaw reconstruction due to an accident, or cancer. It may also include dental exams prior to an organ transplant.
This is an area that can have many exceptions, but it is good to know that Medicare can cover dental procedures in extreme circumstances.
Medicare coverage does not include routine dental care.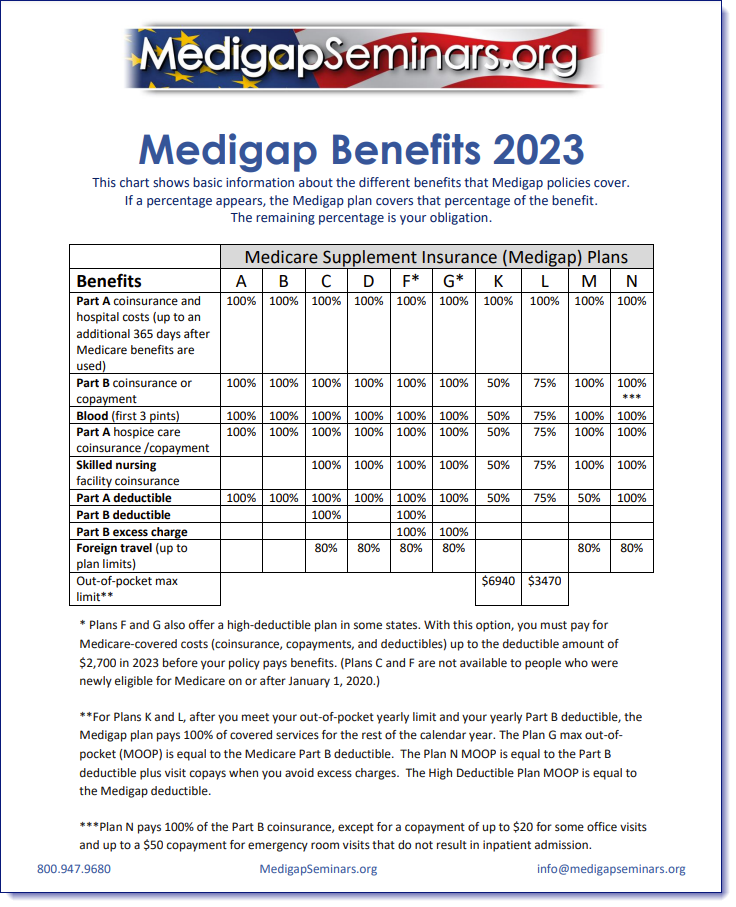 Medicare Supplement Coverage of Part A
Medigap or Medicare supplement coverage of Part A is very simple. There are 10 Medicare supplement plans all with benefits standardized by the US Government.
Other than Plans K, L and the high deductible versions of Plan G or Plan F, all Medicare supplement plans work with Medicare to cover 100% of your inpatient hospital stay. You can receive inpatient hospital care for 365 consecutive days without any out of pocket cost.
With a Medigap Plan there is no network limitation and no insurance company pre-authorizations required.
Medicare Part B
While this article is about Medicare's inpatient coverage, we thought it best to at least mention Medicare Part B outpatient care. Again, Parts A and B are the foundations of Traditional Medicare. Part B is the health care plan used most often.
We cover the cost and benefits of Part B health care extensively here.
In general, Part B coverage includes everything related to outpatient care and physician services. This includes some prescription drugs administered in a medical setting (aka Part B prescription drug coverage), ambulance services, preventive care, medical supplies, durable medical equipment, home health services and many other medical services.
Most Medicare beneficiaries will pay a standard Part B premium. Those in higher income brackets may pay a higher monthly premium called an Income Related Monthly Adjustment Amount (IRMAA).
Medicare Drug Coverage
While Part A and Part B coverage include prescription drug coverage under some circumstances, Part D is the primary coverage for Medicare approved prescription drugs.
Part D drugs are the prescription drugs you pick up at a pharmacy or mail order and self administer. Medicare Part D plans include at least two drugs from every category, with sic protected categories where substantially all drugs are covered.
I have created a free Medicare Part D website to help consumer shop and enroll in Part D.