You may have heard of Medigap insurance but aren't quite sure what it is. This type of insurance is also known as Medicare Supplement insurance. In this article, we will answer the questions of what Medigap is in addition to providing more information about this type of supplemental insurance.
For Further Research
For even more information on your Medicare choices, please see my articles and videos title Medicare Explained – Secrets of Who & Why and Medicare Explained – What is Medicare.
What is Medigap?
Medigap is a type of health insurance designed to supplement your Original Medicare benefits. It can help pay for some of the out-of-pocket costs that Medicare doesn't cover, such as copayments, coinsurance, and deductibles.
When Am I Eligible for Medicare?
To be eligible to enroll in a Medigap plan, you must first be enrolled in both Medicare Part A and Part B, also known as Original Medicare. Once you have an Original Medicare Plan and a Medigap policy, Medicare and your Medigap policy will pay their respective share of covered health care costs.
Medigap coverage can be a valuable addition to your Medicare plan. However, it is important to note that Medigap is not an insurance policy itself. It's simply a supplemental policy that works alongside your Original Medicare coverage.
Medigap Plans are sold by private companies, not the United States Government. An independent insurance broker should work with multiple insurance companies to offer all the plans available in your area. Medigap Seminars is the "Medicare Agent Near Me" most people ask for.
What are The Different Types of Medigap Insurance?
There are ten Medicare supplement plans, standardized by the federal government. Although they're sold by private insurance companies, the benefits are identical regardless of the company. In addition, Medicare supplement plans are guaranteed renewable. This means the benefits never change. Medicare beneficiaries with Medigap policies can be secure in knowing what their benefits will be from year to year.
You can find a handy Medical Supplement Plans Comparison Chart Here. This chart help you compare Medigap policies. For a personalized quote, please use this quote form to provide us the information we need. We will respond by email with your quotes.
What Do Medigap Plans Cover?
All Medigap plans must cover at least these basic benefits:
Part A coinsurance and hospital costs up to an additional 365 days after Medicare benefits are used up
Part B coinsurance or copayment
The first three pints of blood each year
Part A hospice care coinsurance or copayment
Additionally, some plans will also cover:
Costs related to skilled nursing facility care
Part A deductible
Part B deductible
Part B excess charges
Foreign travel emergency care
What does Medigap insurance not cover?
Medigap plans do not cover:
Long-term care
Private duty nursing
Dental care
Vision care
Hearing aids and exams to fit them
Custodial or at-home recovery care
Prescription drugs
Healthcare not Medicare approved
When Can I Sign Up for a Medigap Plan?
You can sign up for a Medigap plan during your six-month Medigap Open Enrollment Period. This period starts on the first day your Medicare Part B is active. Technically, this six months window is 180-days, which may be less than six full calendar months.
It should be noted that there is no federal mandate requiring states to offer Medicare supplement insurance to those eligible for Medicare but under the age of 65. If you are in this situation, check with your state insurance department or an independent Medicare broker.
No Underwriting
During your Medigap Open Enrollment Period, you are guaranteed to be accepted by a Medigap insurance company. You cannot be denied coverage or charged more due to preexisting conditions. This is true even if you have health problems. In addition, you will not have to undergo medical underwriting during this time.
If you wait to sign up for a Medigap plan outside of this window, you may be subject to medical underwriting. Medical underwriting could result in higher premiums or being denied coverage.
What Is Medical Underwriting?
Medical underwriting is the process by which insurance companies evaluate your health history to determine your premiums or whether or not to accept your application.
How Much Does a Medigap Policy Cost?
The cost of a Medigap policy depends on a few different factors, including the state you live in, your age, tobacco use, gender and the specific plan you choose. In general, Medigap plans are available for purchase from private insurance companies or through their independent agents. The monthly premium is paid directly to the insurance company and automatically renews yearly with the benefits being guaranteed renewable.
In some states, the monthly cost for a supplement policy can be under $100 for a 65-year old non-smoker. In other states in can be closer to $300. Keep in mind, you must also pay your monthly Part B premium and enroll in Medicare prescription drug plans.
How do Insurance Companies Price Medigap Plans?
There are three different ways that insurance companies can price Medigap plans:
Community rating: All people living in the same area and enrolling in the same Medigap plan pay the same monthly premium, regardless of age or health status.
Issue-age rating: Your monthly premium is based on your age when you first enroll in a Medigap plan. if you purchase a policy at age 65, you will always pay the 65-year old rate. That rate can change over time.
Attained-age rating: Your monthly premium starts low but gradually increases as you age. This is the most common pricing method and often the lowest cost over your lifetime.
Some Medicare beneficiaries mistakenly believe that one pricing method will always be a lower cost over their lifetime. This is not true. No pricing method will turn an insurance company into a philanthropic organization. Insurance companies can increase their prices in every situation.
What's the Difference Between Medigap Policies and Medicare Advantage Plans?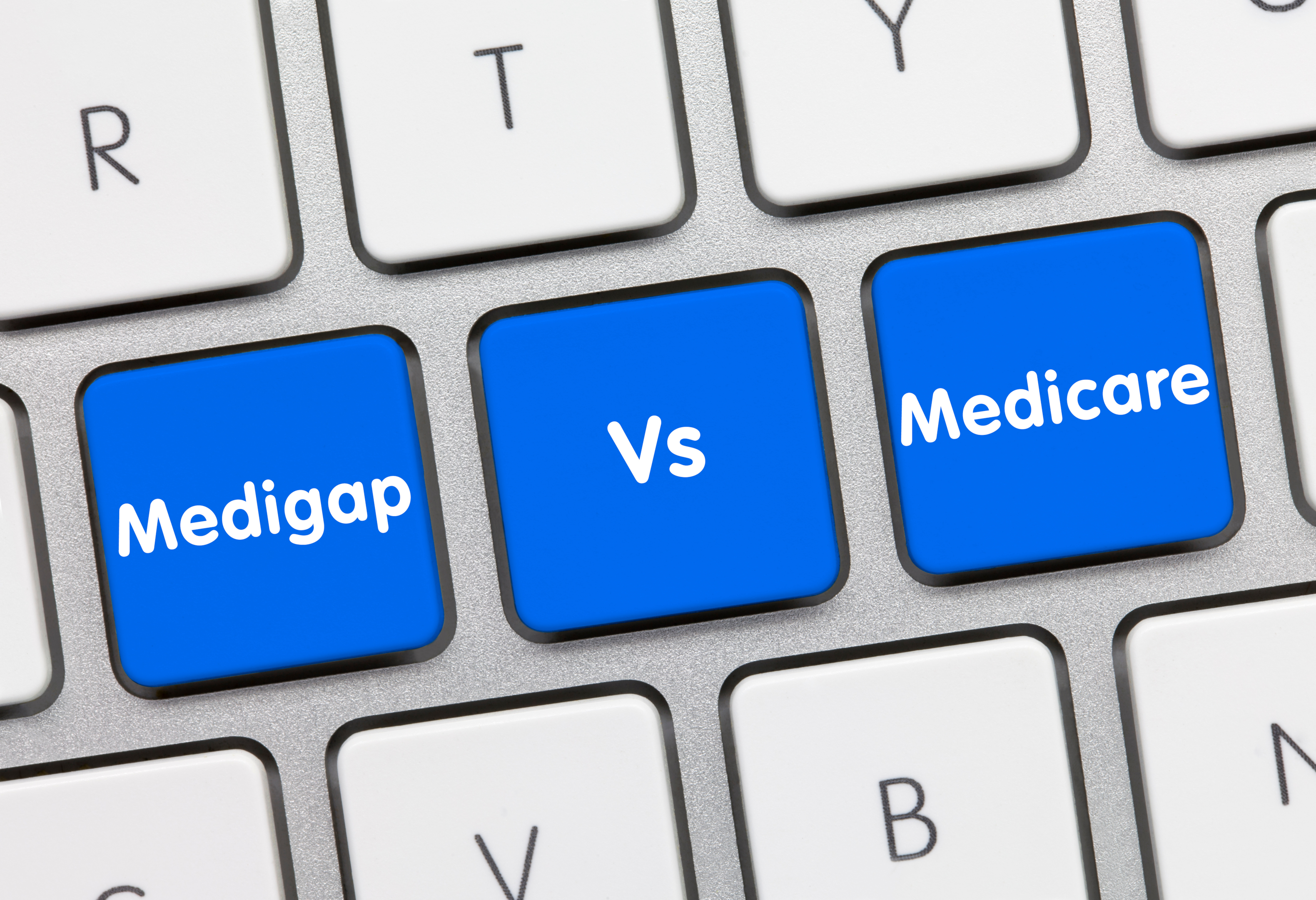 Medicare Advantage plans and Medigap policies are both ways to help cover the costs of Medicare. Medicare Advantage plans are offered by private insurance companies and replace your original Medicare plan. You might also hear a Medicare Advantage plan referred to as "Part C"
An Advantage plan replaces your Medicare Parts A and B. A supplement builds on your Medicare paying the copays, coinsurance and deductibles of what Original Medicare pays.
For more on Advantage plans, please see my article and video; Medicare Advantage Plans Explained.
What is the Difference Between Medigap and Medicare Advantage?
There are some key differences between the two types of coverage. Medicare Advantage plans typically have network restrictions, meaning you may only be covered for care from providers within the plan's network.
Medicare supplemental insurance policies do not have network restrictions and will cover you for care from any Medicare-approved provider. Medicare Advantage plans mostly have lower premiums than Medicare policies, but they also usually have higher out-of-pocket costs.
Also, drug coverage is not included when you buy a Medigap policy. You should buy a stand-alone Medicare Prescription Drug Plan (Part D) to add drug coverage to your Medigap policy.
In Conclusion
We hope this article has helped give you a better understanding of Medigap insurance and its potential benefits. Ultimately, whether or not you decide to purchase a Medigap policy is a personal decision. However, if you are Medicare-eligible and are interested in supplementing your coverage, Medigap insurance should be considered.
If you have any further questions about Medigap insurance, please reach out to us using our toll-free or local numbers or via the form on our Contact Page.